Standard Duct CO2 Sensors CDE
Hàng hot: | Lượt xem: 311
CDE CO2 Sensor, Duct Mount, Economy
FEATURES
Microprocessor-based design increases accuracy and reduces installation time
Non-dispersive infrared technology repeatable to ±20 ppm ±1% of measured value...high accuracy measurements
Innovative self-calibration algorithm...easy to maintain
5-year calibration interval (recommended)
Low ambient sensitivity
Output 4-20mA/0-10V for flexible control system interface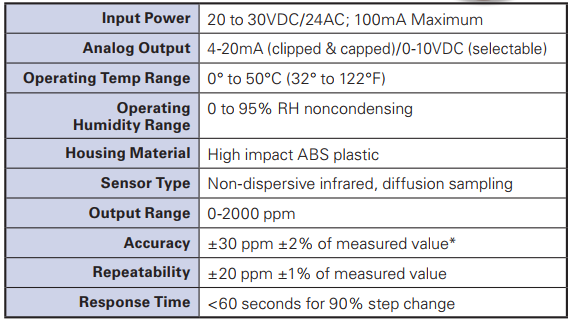 ---
DESCRIPTION
The CDE is non-dispersive infrared (NDIR) sensors designed for measuring environmental CO2 concentration in ventilation systems and indoor living spaces. Their measurement range of 0-2000 ppm makes them compliant with ASHRAE and other standards for ventilation control
The CWE/CDE Series provides a user-selectable 4-20mA or 0-10VDC output for versatility. Microprocessor-based digital electronics & a unique self-calibration algorithm improves long-term stability & accuracy.
---
APPLICATIONS
Controlling ventilation in response to occupancy
Facilitating compliance with ASHRAE 62.1 standard for air quality
Office buildings, conference rooms, schools, retail stores, etc.