M9109 series Non Spring Return Damper Actuators
Hàng hot: | Lượt xem: 1098
24 AC/DC Floating Electric Actuator, Includes: Anti Rotation Bracket
| Mã | Mô tả | Giá thành viên | Mua hàng |
| --- | --- | --- | --- |
| M9109-AGA-2 | M9109-AGA-2 ELECT. MOTOR | Đăng nhập | Đăng nhập |
| M9109-AGA-4 | ROTARY ACTUATOR | Đăng nhập | Đăng nhập |
| M9109-AGA-5 | ROTARY ACTUATOR (Rotary Electric Damper Actuator, Floating & On/Off, 9Nm, 90deg, 72sec, 20-30VAC, M16 Threaded) | Đăng nhập | Đăng nhập |
| M9109-AGC-2 | M9109-AGC-2 9NM FP (M9109-AGC-2 9NM,FP) | Đăng nhập | Đăng nhập |
| M9109-AGC-4 | ROTARY ACTUATOR | Đăng nhập | Đăng nhập |
| M9109-AGC-5 | ROTARY ACTUATOR (Rotary Electric Damper Actuator, Floating & On/Off, 9Nm, 90deg, 72sec, 20-30VAC, with 2 SPDT Aux. Switches, M16 Threaded) | Đăng nhập | Đăng nhập |
| M9109-GGA-2 | M9109-GGA-2 60SEC 9NM PRO (M9109-GGA-2,60SEC,9NM,PRO) | Đăng nhập | Đăng nhập |
| M9109-GGA-4 | ROTARY ACTUATOR | Đăng nhập | Đăng nhập |
| M9109-GGA-5 | ROTARY ACTUATOR | Đăng nhập | Đăng nhập |
| M9109-GGC-2 | M9109-GGC-2 60SEC 9NM PRO (M9109-GGC-2,60SEC,9NM,PRO) | Đăng nhập | Đăng nhập |
| M9109-GGC-4 | ROTARY ACTUATOR | Đăng nhập | Đăng nhập |
| M9109-GGC-5 | ROTARY ACTUATOR | Đăng nhập | Đăng nhập |
Description
The M9109 Series direct-mount electric actuators operate on 24 VAC power and are available for use with floating or proportional controllers. These non-spring return actuators are easily installed on a Variable Air Volume (VAV) box, a round damper shaft up to 1/2 inch (13 mm) in diameter, or a 3/8 inch (10 mm) square shaft.
M9109 models have 80 lb·in (9 N·m) running torque. They have a nominal 60-second travel time for 90° of rotation at 60 Hz (72 seconds at 50 Hz) with a load-independent rotation time. The M9109-xGC-2 models are available with integral auxiliary switches to perform switching functions at any angle within the selected rotation range.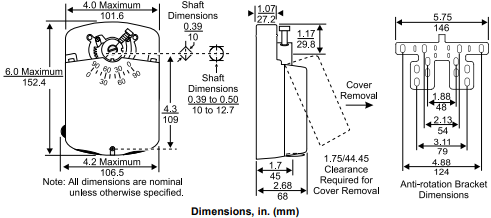 Features
35 dBA rating meets audible requirements for open ceilings
synchronous drive provides constant rotation time independent of load
direct shaft mount with single-screw coupler simplifies installation and provides 3-point shaft gripping
a magnetic clutch provides torque protection for the damper and actuator
jumper-selectable rotation direction (GGx models only) simplifies installation
adjustable rotation stops allow application versatility with 30 to 90° clockwise or counterclockwise rotation
1/2 in. NPT threaded conduit opening meets electrical code requirements and allows the use of armored cable
a manual gear release simplifies setup and field adjustments
output position feedback (GGx models) provides simple, closed-loop control with accurate position sensing
Applications
The M9109 is used to position balancing, control, round, and zone dampers in typical HVAC applications. The M9109 mounts directly on the duct surface, round damper, or small rectangular damper with an anti-rotation bracket and two sheet metal screws (included). Additional linkages or couplers are not required.