Meter BUS Level Converter
The CON-MBUS is a level converter used to bring meter bus products into a BACnet™ controller. The converter can be used with any Delta Controls product that has an available MS/TP port. The CON-MBUS is capable of supplying power to meter bus devices and can support up to 150 meters.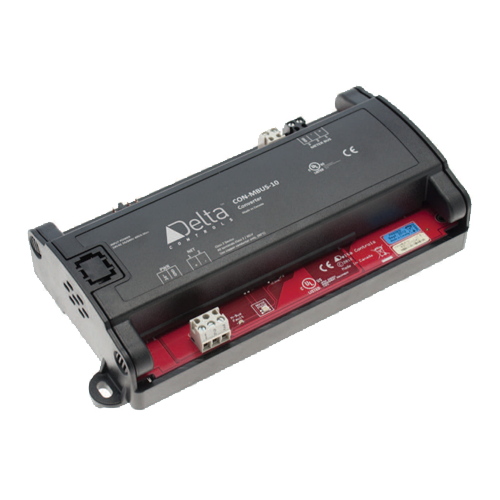 Application
The CON-MBUS is used to bring meter bus devices into a BACnet network. A single CON-MBUS can communicate with up to 150 meter bus devices. The information from the meters can be customized and mapped into BACnet objects through a gateway object. This provides the ability to only view specific information from the meters. The update time for the meters is adjustable to suit a variety of installations.
Features
Meter Bus Port
RS485
LED status indication of communication ports
Small footprint
DIN Rail mountable
M-Bus hardware fault LED
---
-Communication Ports Main LAN (NET1)
RS485 @ 38400 bps
Sub LAN (NET2)
Meter bus @ 300, 2400 (default), 9600, 38400 baud (maximum of 150 devices)
-Technology 32 bit processor
-LED IndicatorsScan
RS485 port
Status
M-Bus fault
-ConnectorsRemovable screw-type terminal Connectors
-WiringClass 2 / SELV
-Power24VAC
50/60Hz
40VA
-Ambient0° to 55°C (32° to 131°F)
10-95% RH (non-condensing)
-Dimensions 10.7 x 4.9 x 21.8cm (4 1/8" x 1 7/8" x 8 1/2")
360g (0.80 lb.) with housing
-Compliance CE
FCC
IC
-ListingsUL916